© Solo Vehicle Valeting 2010-2017 All rights reserved

Professional Valeting & Detailing Services
New Vehicle Protection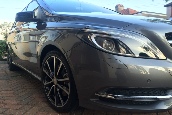 Road salts, traffic film, bird droppings and polution can cause serious damage to your vehicles appearance. Most vehicle manufacturers warrantities cover bodywork corrosion (rust) and paint defects, but it doesn't cover damage caused by the environment.
Our protection service guards against environmental damage by the application of a nano technology coating that bonds to the vehicle paintwork to provide an additional layer of protection against environmental contaminants, bird droppings etc. Before the coating is applied a thorough preparation process is undertaken to ensure long lasting results.
In addition the interior carpets and upholstery are treated with solution that protects against spills and stains.
From £250

Enhancement Machine Polishing
Paint Decontamination
Alloy Wheel Sealant
Interior Protection
Glass Sealant